500,000 Meals Challenge


Drawing from his Quaker roots, Fred Beans has instilled in his family business the philosophy of "doing well by doing good." Supporting the communities where Fred Beans dealerships, collision centers and other operations are located has become our company-wide commitment. Today, that commitment is unwavering, especially during these challenging times and despite the uncertain timeline for the Fred Beans Automotive Group fully returning to 'business as usual' in the wake of the COVID-19 pandemic.
The need is too great to wait, so we've launched the Fred Beans 500,000 Meals Challenge on May 5, the new global day of giving and unity known as #GivingTuesdayNow. Each month through the end of the year, May 2020 through December 2020, Fred Beans Automotive Group will donate $25,000 a month, divided among organizations that fight hunger in the communities where we operate.
That donation will come from car sales and a portion of service and CARSTAR collision bills, and it will fund an estimated 400,000 meals this year for individuals in our communities who need assistance.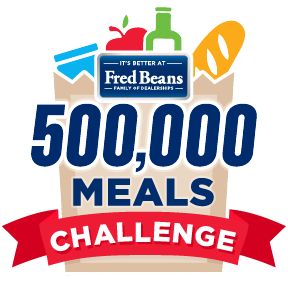 Up for the Challenge?

The "Challenge" to our vendors, customers and employees is, if you have the ability to join our effort, to please consider helping us raise funds. Together, we can boost our pledge to 500,000 meals to help our neighbors in need. We will focus efforts each month to aid some of the most vulnerable populations like families with school-aged children when school is out for summer, seniors and our veterans.
If you are up for the "Challenge," together, we can meet - and hopefully surpass - that 500,000-meal goal!
Choose to donate to one or more of the following organizations supported by the Fred Beans 500,000 Meals Challenge. These organizations are facing sharp increases in demand for their services, most reporting double, some even triple, the number of clients using their food pantries.