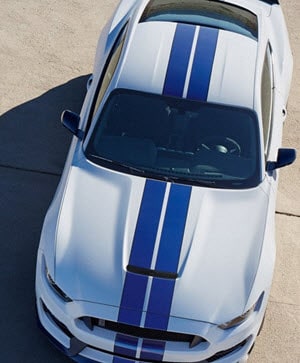 If you're a consumer in Philadelphia or Langhorne looking for a top level of excitement in your next vehicle, then your best choice is a sports car. While there are several excellent sports cars you could choose, none offers the legacy that you'll find with the Ford Mustang.
The Mustang is one of the most well-known, popular sports cars on the market, and the 2017 version of this classic vehicle provides the features that sports car enthusiasts cannot resist. Whether you want big style or superior performance, the Mustang is the right vehicle for you. Read about the thrilling features of the 2017 Ford Mustang that make this the best sports car available today. If you're ready to test drive a Mustang, contact us today.
Multiple Engines
Top-of-the-line engine power is the reason consumers typically choose a sports car; and this is one of the best reasons to drive the Ford Mustang. With the Mustang, you can choose one of four excellent engines, each of which offers superior power.
The standard Mustang engine is a 3.7L V6 that is rated at 300 horsepower and 280 lb-ft of torque. If you want to step up to the next level, you can choose the 2.3L EcoBoost® engine, which produces 310 horsepower and 320 lb-ft of torque. The penultimate Mustang engine is a 5.0L V8 with 435 horsepower and 400 lb-ft of torque. Finally, the top engine is a 5.2L V8 that delivers 526 horsepower and 429 lb-ft of torque.
Design
Besides fantastic engine performance, the most important feature that a Mustang can offer is attractive styling. When you drive the Mustang around Langhorne or Philadelphia, its exterior styling is guaranteed to turn heads.
The exterior of the Mustang includes several amazing design features you'll be sure to love. For instance, all Mustang trims come equipped with LED tri-bar taillamps, high-intensity discharge headlights, and dual exhaust pipes. There are also a huge selection of wheel designs in sizes ranging from 17 inches to 20 inches.
Safety
When you're behind the wheel of the Ford Mustang, you want to know that you're as safe as possibility. Luckily, this excellent vehicle provides advanced safety features that give you a maximum level of protection.

The active safety systems of the Ford Mustang help you avoid wrecks and keep you safe when collisions occur. The Blind Spot Information System® with Cross-Traffic Alert keeps you aware when a vehicle encroaches in your blind spot, and Adaptive Cruise Control with rain-sensing wipers makes driving in inclement weather easier than ever before. Staying safe on the road is easy when you're driving the 2017 Ford Mustang.
Drive the 2017 Ford Mustang
Any car consumer interested in a premier sports car should consider driving the Ford Mustang. The Mustang provides power, style, and safety-the hallmarks of a high-quality sports car. Experience the amazing 2017 Ford Mustang for yourself by scheduling a test drive at Fred Beans Ford of Langhorne.
Whether you're interested in the Ford Mustang or one of our other fine models, the team at Fred Beans Ford of Langhorne is here to help you in whatever way you need. Shop with us today and you'll easily find your perfect vehicle.