The Ford Escape is an outstanding entry in the crossover SUV market. Drivers all over the Philadelphia, Bensalem, and Langhorne areas rely on it to get them where they need to go, whether it's in the height of summer or the deepest cold of winter. The Escape provides outstanding performance from its engine lineup, and even has an available towing package capable of hauling up to 3,500 pounds.
Of course, performance and power are only one aspect of an SUV. Drivers also demand comfort and refinement, and the Ford Escape delivers this as well. Let's look at a thorough review of the Ford Escape interior, and find out what it has to offer in terms of comfort, ease of use, entry and exit, space, and more.
Ford Escape Interior Comfort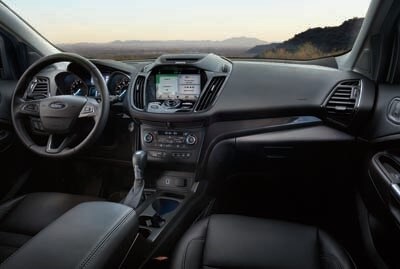 The Ford Escape interior offers a quiet, serene cabin, outstanding climate control, and very supportive seats overall. It also delivers sporty handling and a steady, stable ride at all times, whether you're touring, taking a road trip, or just going on your daily commute.
Interior Design
The overall Escape interior design of the cabin is sleek and futuristic, with modern, angular approaches. The controls on the central console have great visibility, they're easy to access and very intuitive to use. The adjustable driver's seat ensures that you've always got great support and height for visibility, and the tilt-and-telescope steering wheel ensures you've always got a comfortable grip and control.
Entry and Exit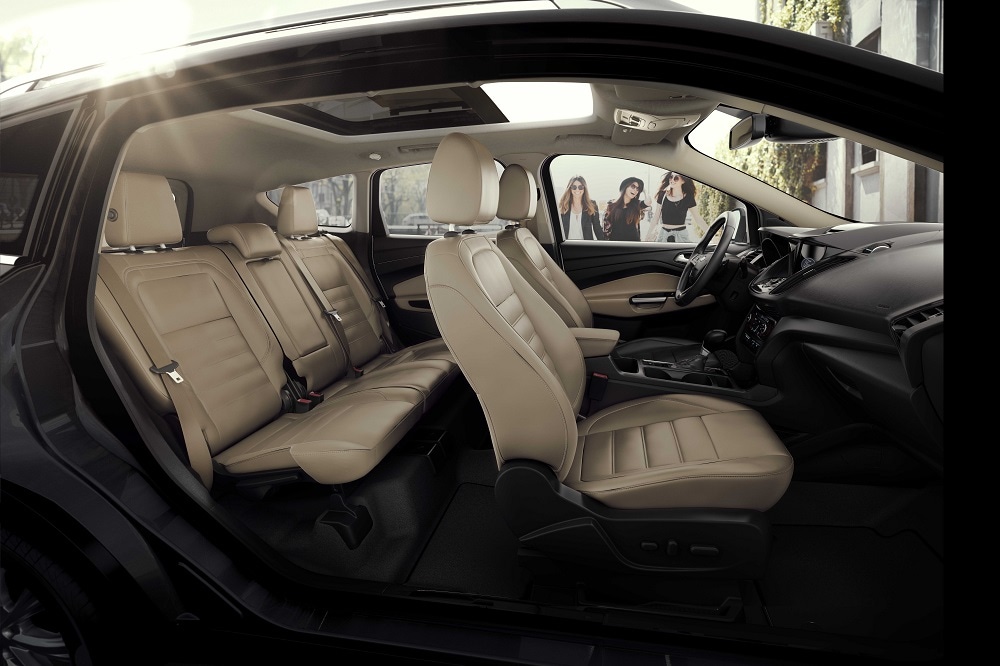 Entry and exit are a dream. The seats are at the perfect height to get in and out. There's no broad exit drop and no bending over when you need to get in. Sliding in and out of the front is very easy thanks to shallow thigh bolsters, and the back seats are just as accessible and comfortable.
Passenger Volume
Another advantage of the Escape interior is the cabin space. The cabin space offers plenty of room, right in line with many other small crossovers, offering enough space for up to five adults with plenty of comfort. You'll get 98.1 cubic feet of total passenger area, with 39.9 inches of headroom up front and 43.1 inches of legroom, as well as 56 inches of shoulder room.
In the back, you'll get 39 inches of head space, 36.8 inches for your legs, and 55.3 inches of shoulder space. Overall, there's plenty of room for driver and passengers alike.
Cargo Space
Of course, hauling cargo is also part and parcel of the SUV interior. Once again, the Escape gets very solid numbers in this area. Behind the back row of seats you'll get 34.3 cubic feet of room for groceries, equipment, or luggage, and with the back seats folded down, this expands to 67.8 cubic feet. For a more visual measurement, this comes down to 10 pieces of average carry-on luggage behind the back seat, expandable to roughly 25 average carry-on bags if you fold the seats down.
See the Escape at Fred Beans Ford of Langhorne
If you're in the areas of Langhorne, Bensalem, or Philadelphia, you can check out the Ford Escape interior for yourself. Just stop by Fred Beans Ford of Langhorne and ask to take a test drive today!